The United Nations is committed to strengthening tolerance by fostering mutual understanding among cultures and peoples. This imperative lies at the core of the United Nations Charter, as well as the Universal Declaration of Human Rights, and is more important than ever in this era of rising and violent extremism and widening conflicts that are characterized by a fundamental disregard for human life.
Among other things, the Declaration affirms that tolerance is respect and appreciation of the rich variety of our world's cultures, our forms of expression and ways of being human. Tolerance recognizes the universal human rights and fundamental freedoms of others. People are naturally diverse; only tolerance can ensure the survival of mixed communities in every region of the globe.
The Declaration qualifies tolerance not only as a moral duty, but also as a political and legal requirement for individuals, groups and States. It emphasizes that States should draft new legislation when necessary to ensure equality of treatment and of opportunity for all groups and individuals in society.
Education for tolerance should aim at countering influences that lead to fear and exclusion of others and should help young people develop capacities for independent judgement, critical thinking and ethical reasoning. The diversity of our world's many religions, languages, cultures and ethnicities is not a pretext for conflict, but is a treasure that enriches us all.
How Can Intolerance Be Countered?
Laws: Governments are responsible for enforcing human rights laws, for banning and punishing hate crimes and discrimination and for ensuring equal access to dispute settlement.
Education: Laws are necessary but not sufficient for countering intolerance, greater emphasis needs to be placed on educating more and better.
Access to information: The most efficient way to limit the influence of hatemongers is to promote press freedom and press pluralism, in order to allow the public to differentiate between facts and opinions.
Individual awareness: Intolerance breeds intolerance. In order to fight intolerance individuals should become aware of the link between their behaviour and the vicious cycle of mistrust and violence in society.
Local solutions: When confronted with an escalation of intolerance around us, we must not wait for governments and institutions to act alone. We are all part of the solution.
---
International Day for the Elimination of Violence against Women - Nov 25
"Sexual violence against women and girls is rooted in centuries of male domination. Let us not forget that the gender inequalities that fuel rape culture are essentially a question of power imbalances." — UN Secretary-General António Guterres
Why we must eliminate violence against women
Violence against women and girls (VAWG) is one of the most widespread, persistent and devastating human rights violations in our world today remains largely unreported due to the impunity, silence, stigma and shame surrounding it.
In general terms, it manifests itself in physical, sexual and psychological forms, encompassing:
intimate partner violence (battering, psychological abuse, marital rape, femicide);
sexual violence and harassment (rape, forced sexual acts, unwanted sexual advances, child sexual abuse, forced marriage, street harassment, stalking, cyber- harassment);
human trafficking (slavery, sexual exploitation);
female genital mutilation; and
child marriage.
To further clarify, the Declaration on the Elimination of Violence Against Women issued by the UN General Assembly in 1993, defines violence against women as "any act of gender-based violence that results in, or is likely to result in, physical, sexual or psychological harm or suffering to women, including threats of such acts, coercion or arbitrary deprivation of liberty, whether occurring in public or in private life."
The adverse psychological, sexual and reproductive health consequences of VAWG affect women at all stages of their life. For example, early-set educational disadvantages not only represent the primary obstacle to universal schooling and the right to education for girls; down the line they are also to blame for restricting access to higher education and even translate into limited opportunities for women in the labour market.
While gender-based violence can happen to anyone, anywhere, some women and girls are particularly vulnerable - for instance, young girls and older women, women who identify as lesbian, bisexual, transgender or intersex, migrants and refugees, indigenous women and ethnic minorities, or women and girls living with HIV and disabilities, and those living through humanitarian crises.
Violence against women continues to be an obstacle to achieving equality, development, peace as well as to the fulfillment of women and girls' human rights. All in all, the promise of the Sustainable Development Goals (SDGs) - to leave no one behind - cannot be fulfilled without putting an end to violence against women and girls.
Orange the World: Generation Equality Stands Against Rape
Efforts to prevent and end violence against women at the global, regional and national levels shows that there is widespread impunity on sexual violence and rape.
Starting on this year's (2019) International Day for the Elimination of Violence Against Women (25 November), and for the next two years, the UN Secretary-General's UNiTE to End Violence against Women campaign, a multi-year effort aimed at preventing and eliminating violence against women and girls, will focus on the issue of rape as a specific form of harm committed against women and girls in times of peace or war.
Use the hashtags: #GenerationEquality #orangetheworld and #spreadtheword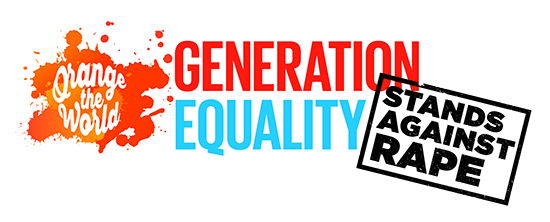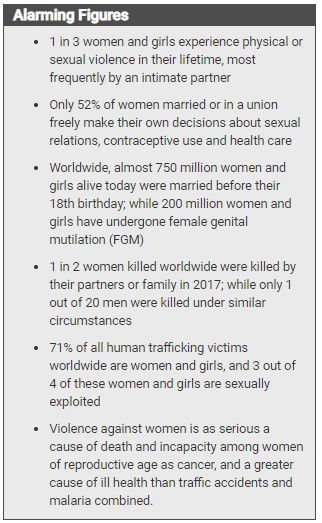 ---
"Around the world, children are showing us their strength and leadership advocating for a more sustainable world for all. Let's build on advances and re-commit to putting children first. For every child, every right." UN Secretary-General António Guterres
World Children's Day was first established in 1954 as Universal Children's Day and is celebrated on 20 November each year to promote international togetherness, awareness among children worldwide, and improving children's welfare.
November 20th is an important date as it is the date in 1959 when the UN General Assembly adopted the Declaration of the Rights of the Child. It is also the date in 1989 when the UN General Assembly adopted the Convention on the Rights of the Child.
Since 1990, World Children's Day also marks the anniversary of the date that the UN General Assembly adopted both the Declaration and the Convention on children's rights.
Mothers and fathers, teachers, nurses and doctors, government leaders and civil society activists, religious and community elders, corporate moguls and media professionals, as well as young people and children themselves, can play an important part in making World Children's Day relevant for their societies, communities and nations.
World Children's Day offers each of us an inspirational entry-point to advocate, promote and celebrate children's rights, translating into dialogues and actions that will build a better world for children.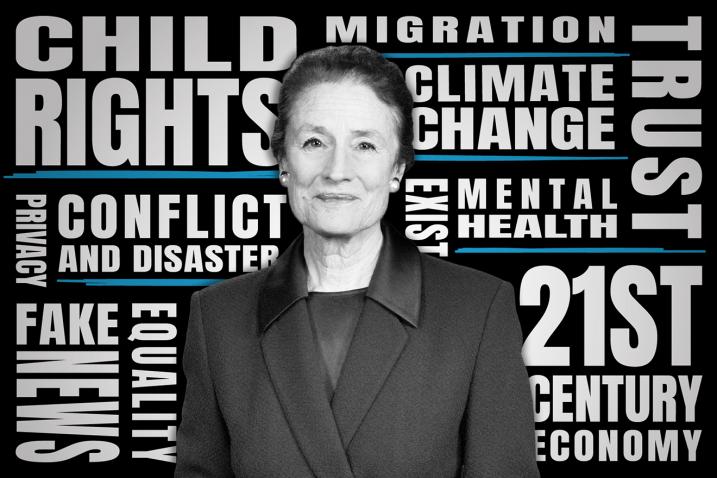 https://www.unicef.org/child-rights-convention/open-letter-to-worlds-children?utm_campaign=crc30-letter&utm_source=referral&utm_medium=un
"We must listen to you – today's children and young people – about the issues of greatest concern to you now and begin working with you on twenty-first century solutions to twenty-first century problems."
---