In February 2011, we commenced serving meals of a Monday and Wednesday night. This was done by Wangaratta Carevan Inc. Committee members under a 3 month trial. Volunteers were then inducted, and commenced serving clients in April 2011. We were located at Victory Life Church on Monday nights and Apex Park on Wednesday nights.
In the beginning, meals were prepared from food donated by the Wangaratta Carevan Inc. Committee in the industrial kitchen at Avian Park. After preparation, they were snap frozen and stored in freezers for service nights.
In February 2014, through the Community Food for All Forum (CFFAF), The Inner Wheel Club of Wangaratta under the guidance of Patti Stafford, was given a grant and came on board with Wangaratta Carevan Inc. to provide the 'cook-ups' for our evening meals. The initiative aims to ensure groups work together to make the best use of local resources to help those in need.
Inner Wheel commenced monthly 'cook-ups', on a Sunday, using the Avian Park Raceway kitchen and food donations from local businesses. Depending on the donations, the group cooks and snap freezes mashed potatoes, boiled rice, stir fires and other hearty meals.
Since 2015, 'cook-up's' are held at The Centre' commercial kitchen in Chisholm Street. In 2015, an Invitation from the West End Committee enabled us to start a service of a Tuesday night at the barbecue area between Ross Court and Lowe Court off Rangeview Drive.
Local business' help with donations of food, such as Woolworths, providing fruit and vegetables which are rescued prior to being discarded. Food rescue is paramount. Meat is either donated or purchased with monetary donations.
Inner Wheel now mentors the VCAL students once a month by teaching them to prepare and cook meals for Wangaratta Carevan Inc.
To prepare meals for a week, the Food Committee pull meals for the next week from freezers and put them in fridges in the van. What is to be served is put into a diary for each night of service so that the Team Leader on for each respective night knows what to serve and guide volunteers on that night.
Wangaratta Carevan Inc. also networks with local businesses and individuals to share ingredients/ produce such as; Anglicare, Loaves & Fishes – Christians Caring, Borinya School, Junction Support Services, Wangaratta High School, The Centre, Open Door Neighbourhood House, Pangerang, Food Share, Community Food For All and Ovens & King to promote awareness about important subjects like anti-poverty, homelessness plus the benefits of healthy eating.
Perishable food such as Eggs, fruit and vegetables are either handed out to the clients or used in our wholesome meals.
Wangaratta Carevan Inc. is a registered not-for-profit organisation that utilises an unpaid committee plus a team of local volunteers. With an 'All Inclusive' model, these wholesome meals are for people (our clients) within our local community who may be struggling to provide food for themselves and often their families.
The Wangaratta Carevan Inc. does not receive any formal financial funding other than random donations of mainly food and sometimes financial assistance from local community groups or our business leaders.
As far as our outgoings are concerned we are fully autonomous and are not required to pay royalties, licensee fees, wages etc, which enables us to distribute the majority of donations to directly benefit our clients.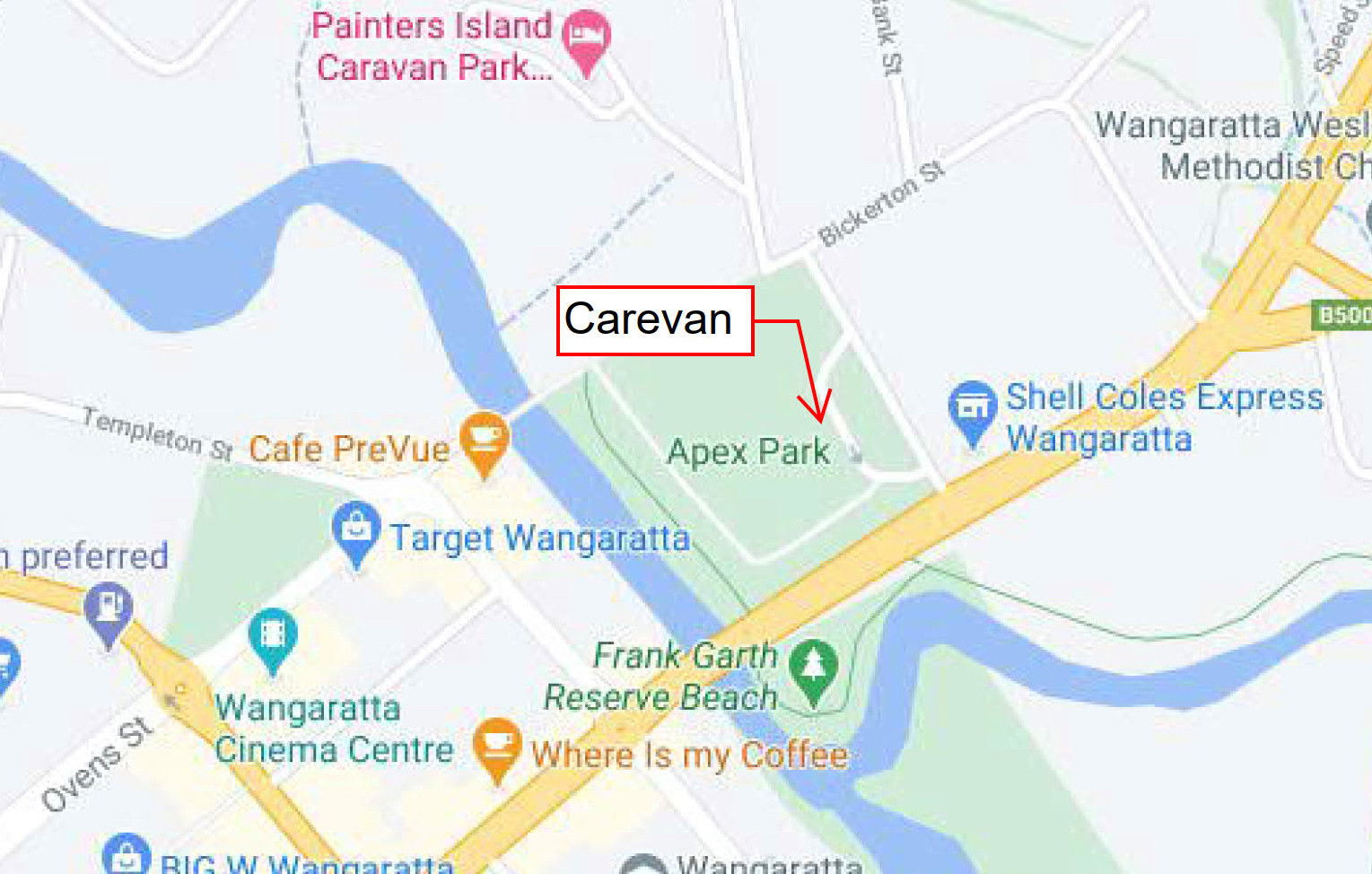 Due to Covid Restrictions Our Operating Location is as below:
TUESDAY (Central): Apex Park, pavilion/undercover area
WEDNESDAY (Central): Apex Park, pavilion/undercover area
We operate from 6pm-7pm
If you would like more information about Wangaratta Carevan Inc., please email
info@carevanwangaratta.org.au
or
admin@carevanwangaratta.org.au
If you would like to volunteer for Wangaratta Carevan Inc., please email
volunteer@carevanwangaratta.org.au
; To download and fill in the
VOLUNTEER APPLICATION FORM
please go to the
TEAM PAGE
and click on
Volunteer Coordinator.
There is a link to the file for you to fill in. There is also links to the
INSTRUCTIONS FOR WORKING WITH CHILDREN
Online Application.
If you would like to donate food or be a part of the cook-ups for Wangaratta Carevan Inc., please email
food@carevanwangaratta.org.au